What is Fluers De Villes?
Fluers De Villes combines the love of flowers, local design talent, and bespoke, utterly unique displays, for experiential events like none other. Fluers De Villes literally means Flower of the Cities – showcasing artful flower displays by partnering up with the best florists in town. Fleurs de Villes not only showcases artful flower displays, they create engagement – with audiences viewing the events, and with the partners who support the artists, from leading sponsor brands to local and national media, as well as community-based groups. In August of 2020 Hana Floral Designs & Co. was invited to be a part of this prestigious event- lets talk a walk into how we conceptualized, designed and delivered our very own "Ya – BatZain"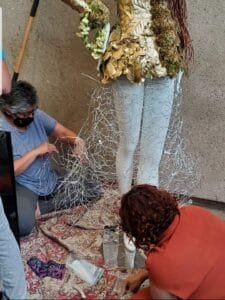 The process was simple and yet so fulfilling as we adorned our Pakistani – Canadian bride with flowers all around her waist with a skirt made out of red roses and carnations and greens. It flowed all the way to the ground gracing her beauty, her bodice was made with gold painted leaves and gold shimmering poms poms on the blouse, her hair was made with a with a wig made out of natural raphia straw – long and flowy just like a bride that glows on her wedding day.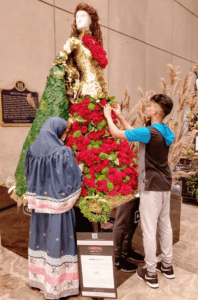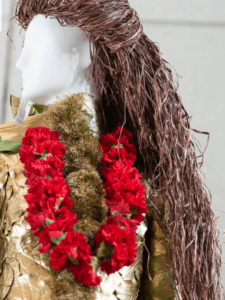 The main highlight of our mannequin was her long and flowy green veil which was attached at the back of her blouse, South Asian brides have a different kind of veil that gets paired up with their dress. Usually it is worn either on her head or just by her side, complimenting her entire dress altogether. Since she was a Pakistani/Canadian bride we surrounded her with our famous dried Pampas grass and moss to keep the Canadian spirit alive. In any south Asian tradition the garland that adorns the bride and grooms neck is very important, it signifies he union of two hearts, two souls in their entirety therefore we couldn't miss out on her garland to give her the completed look. A bride is the queen, it is her day, so to give her the royal look we made a tiara out of flowers and ruscus leaves painted in royal 24 carat floral gold paint.
We hope you enjoyed our journey with exploring Fluers De Villes as much as we did!