Between the white fluffy clouds and beautiful pastels lay a place so perfect for a couple whose beauty matched the purity and calmness of the day. Our beautiful couple Saba and Ashkan were the epitome of grace and beauty, each and every detail that was planned for their wedding decorations and centerpieces reflected every bit of their personality. This couples love and patience for each other showed so much resilience and I say that because we having been planning this wedding since last year and after so much postponement we were finally able to celebrate their love.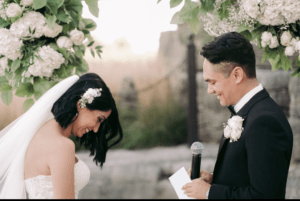 Saba wanted to go for a very classic look for her wedding flowers therefore we chose a white and blush palette for her with a mix of flowy greens to create movement and romance. Her guest table and parents table wedding floral arrangements were muted with a structural classic round embellished with baby's breath to create light and airy texture. Since it was an intimate wedding the centerpieces for each table were not set up in height rather they were in low silver gold pedestals so that the guests on the table could communicate with ease.
For their ceremony that was held in a natural setting amidst natural habitat, trees and flowers they decided to go for a simple white birch arbour adorned with our fresh flowers. Their sofreh (a Persian wedding ceremony) was held right under the birch arch where all we saw was fresh scent of blooms, close rooted family and love all around.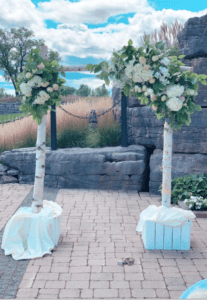 Hana Floral Designs & Co. has not just resided as a flower shop, over the years we have deep rooted ourselves being committed to our families that choose u again and again to celebrate their festivities, celebrate their losses, to celebrate their milestones and much more. Weddings are never the work of a single person or vendor; they say it takes a village to produce one single event and for this event we partnered up with the best Fariday Events who provided us with the best décor that matched the couples vision.